Alumni Program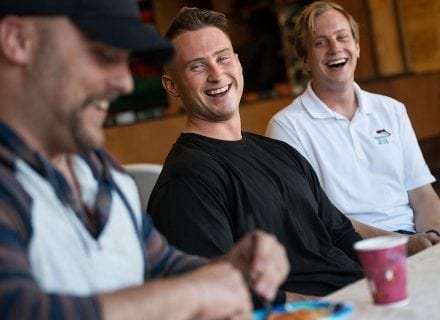 "I don't stay sober because of how bad it got, I stay sober because of how good my life is now."
-Foundation House Alumnus
Our alumni community has been the cornerstone of Foundation House from the beginning. We rely on the strength of this group to act as a power of example and perpetuate the Foundation House way for future generations.
Alumni involvement allows our former residents to be a part of Foundation House's future, not just its past. We maintain a sense of pride and community within our local alumni population and increase the probability of our newest alumni maintaining long-term sobriety. The unique skills and shared experience of our graduates allow them to pass on our program's gifts in ways we simply cannot.
We want our graduate residents to stay connected to the Foxhole, each other and those new to recovery at Foundation House.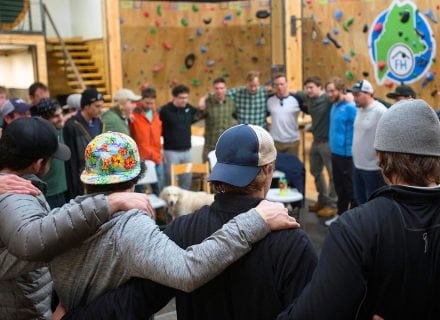 Our Alumni Program:
Integrates our resident and alumni communities.
Develops and sustains a healthy and autonomous alumni community.
Supports local alumni sobriety.
Creates a safe environment for local alumni to continue to establish a life in recovery.
Provides activities and events that promote community and fun in recovery.
Reinforces the 12-Step practice of mentorship and handing down recovery principles to new generations.
---
Here's how we keep Foundation House alumni connected:
1. Activities
Alumni & Resident Activities: These activities are geared toward building alumni and resident connections, with the purpose of developing mentor/mentee relationships and potential 12 Step sponsorships. These events allow current residents to interact with alumni of all ages and sobriety time. Our alumni serve as a power of example and demonstrate the benefits of sobriety, staying connected and creating a community in recovery. Providing opportunities for alumni to reconnect with Foundation House has proven extremely helpful in sustaining long-term sobriety for themselves and future alumni.
These include:
Weekly Alumni-lead 12 Step meetings
Seasonal Sports Leagues
Movie Nights
Polar Bear Dip
Alumni participation in International Travel Program
Sporting Events
Music Studio
Open Door Policy to all regularly scheduled programming and events for current residents
---
2. Communication
We make sure to stay in touch with all of our alumni to keep them part of the Foxhole. Residents may leave our homes, but are always a part of the larger group.
Alumni Emails are sent every Monday to share the week's activities and events, as well as the Foundation House Athletic Schedule for the coming weekend.
Group Text Messages are sent every Wednesday with a reminder of the weekly email, the weekend's athletic schedule, and updates on extra activities or events.
---
3. Relapse Preventation
We are committed to helping prevent relapse by working with residents to build a strong foundation for recovery throughout their stay in our program. We encourage residents to maintain an active role in the Portland 12-Step community and ensure a thorough transition from the program into fully independent living supported by our alumni community.
Relapsed alumni seeking help will be supported through any reasonable or necessary means by our staff and active alumni. This includes formulating an individualized plan to help the individual recover and re-enter the alumni community.
---
Videos
One Cast At A Time
Mike Fisher: Our greatest accomplishment is to not only provide the environment for our residents to sustain their sobriety, but to help them achieve a higher purpose in life. Mike Fisher serves as a profound example of this goal. Mike joined the Foxhole a little over three years ago and, after a successful stay, joined our alumni community in Portland as an active and valuable member. Mike returned to Foundation House as an employee, working as a Program Facilitator in the houses with our guys and assisting with all of our Wilderness Adventures as a field guide. Mike found his passion in the woods. This discovery lead to the next step in his journey and he joined the team as a field guide at Four Circles Recovery in Asheville, N.C. – an outstanding program known for its expertise in wilderness therapy. From there Mike developed his next adventure – One Cast at a Time. He is currently traveling the country, catching a fish on a fly rod in all 50 states and spreading his message of hope and inspiration at treatment centers across the nation. This video tells his inspirational story.
Support Mike by checking out his Facebook page!
Roddy's Guitar
Roddy V.: In this video, Canadian Roddy V. finds his passion working with his hands as an intern in our woodshop. After a year at Foundation House, Roddy's final project was to construct his own electric guitar from scratch, putting to work the skills he acquired in our shop. Helping a resident discover his passion and purpose in early recovery always results in success stories like Roddy's.
Check out these videos and others on our YouTube channel.
back to top ^