Athletics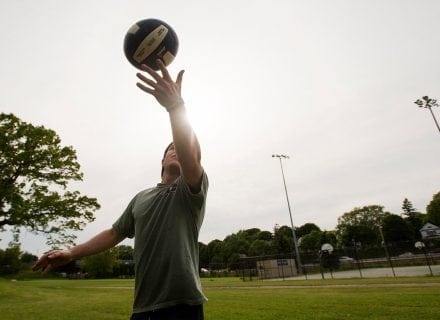 "When I moved out of Foundation House, I knew that I would be on the softball field on Saturday night with my friends, alumni, residents and the staff – that weekly connection to the Foxhole kept me from feeling alone during a difficult time."
-Foundation House Alumnus
Playing on a team requires patience, discipline and persistence – qualities that translate directly to life and sobriety. Our year-round athletic leagues keep our residents active on weekday and weekend nights and give our community a chance to interact with alumni and staff in a unique way. Our leagues are built for everyone – whether you have been playing sports your whole life or have never stepped foot on a field, everyone has fun together. When young men are being active and learning to play together, drugs and alcohol is the farthest thing from their minds.
Every life lesson can be taught on the field, diamond, court or ice. Our therapists and staff play alongside our guys and coach our teams, performing real-life therapy with every strike-out, homerun, dropped ball or touchdown.
Seasonal weekly athletic leagues:
Indoor Flag Football
Softball
Ice Hockey
Basketball
Surf Club
Annual Tournaments:
Curling
Golf
Ping Pong
Pool
Volleyball
Horseshoes
We also offer:
Soccer, street hockey, handball, ultimate Frisbee, Frisbee golf, beach volleyball, dodge ball, and other games and tournaments throughout the annual schedule.
back to top ^