Clinical Approach
Foundation House is often the final step in a long and difficult journey of growth and change.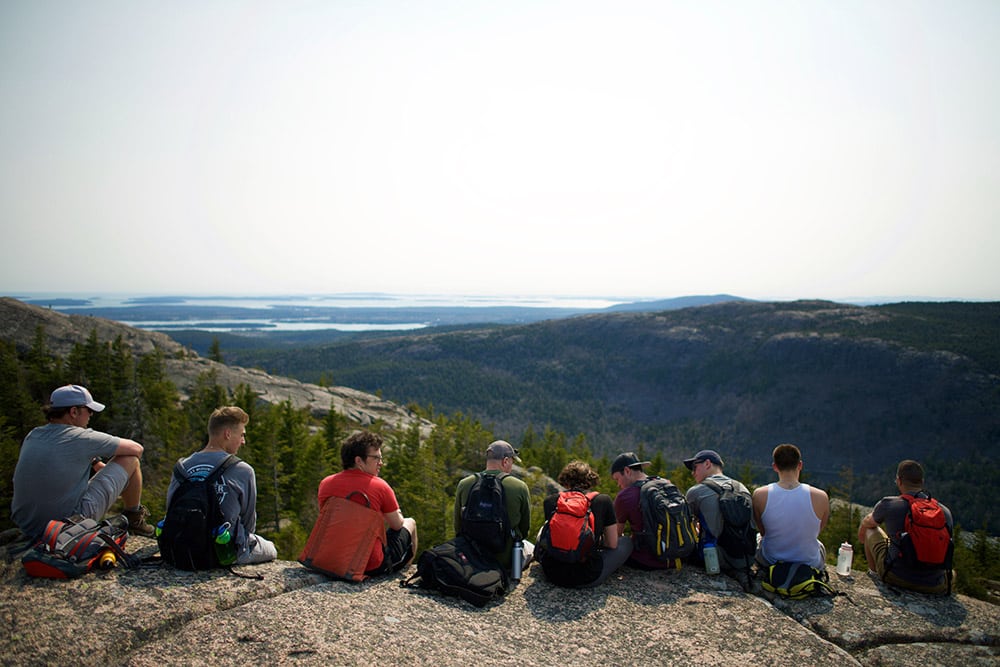 For many young men, the leap from a structured primary treatment environment to the autonomy associated with returning home or going back to school can be too great without support, guidance and a community that understands them. Foundation House provides these men the space and experience where they can hone the skills needed to live outside treatment.
Our clinical approach uses the Relationship Model as the base for experiential and evidenced-based group and individual therapies. This model allows clients to focus on their individual therapeutic needs while they develop their role in society through strengthened self-confidence and accountability in a safe and healthy environment. Our therapeutic process continues to address the thinking and emotional struggles that led to past disruptive behaviors.
"The culture in which you parent, mentor, or educate boys encourages them to be individualistic and group-oriented at once, but does not give them a tribal structure in which to accomplish both in balance… Mentors and intimate role models rarely exist to show the growing boy in any long-term and consistent way how both to serve a group and flourish as an independent self."
― Michael Gurian, The Wonder of Boys: What Parents, Mentors and Educators Can Do to Shape Boys into Exceptional Men
---
What We Treat
We use a variety of therapeutic modalities to help residents address the underlying issues behind their addiction while teaching them how to become self-confident and accountable, often for the first time in their lives. Substance abuse is commonly an element of other struggles. We treat not only the addiction, but the other fundamental troubles that accompany the abuse.
The issues we address include:
Addiction
Dual Diagnosis
Trauma
Executive Functioning
Failure to Launch
Relationship Skills
Depression/Anxiety
Natural regression will occur during the transition from addiction as residents grapple with old behaviors and instincts. We guide our residents through this pivotal shift in their journey to recovery as they experience living in a community with freedoms and responsibilities, bolstered by a clinical support system that builds confidence and reinforces personal strengths. As AA reminds us, we continually strive for progress not perfection.
---
Relapse
Although it is not a requirement, relapse is an integral part of the stories of many successful recovering addicts and alcoholics. At Foundation House, we understand this, and therefore treat every member of our community with dignity and respect, regardless of where they are at in the recovery process.
If a resident relapses, they are escorted by staff to our clinical building and supervised 24-hours a day until an appropriate placement is made. This placement will either be a referral to a primary treatment center with the option to return to Foundation House, or they may be allowed to participate in Foundation House's Wilderness Intervention Program.
Foundation House's Wilderness Intervention Program consists of a three-day backpacking excursion to one of many remote locations including Acadia National Park, Baxter State Park, The White Mountains, and the Casco Bay Islands. The resident is given therapeutic assignments to complete during their time in the wilderness and is accompanied by two alumni staff members at all times. The staff members not only ensure the safety of the resident during their trip, but also relay their experience, strength, and hope, with the goal of inspiring open-mindedness and willingness in the mind of the resident. Upon return, the resident meets with the clinical team and their staff guides, and as a group develop a new treatment plan before readmission into the Foundation House Program.
---
Privacy
Resident privacy is important to us. Foundation House is committed to safeguarding all Patient Health Information (PHI) in accordance with all state and federal guidelines. For more information regarding your rights as a resident of Foundation House, please review our Notice of Privacy Practices. For any additional questions related to Foundation House or Tradecraft12's privacy practices, please contact our Privacy Officer, Meghan Bristol.
back to top ^